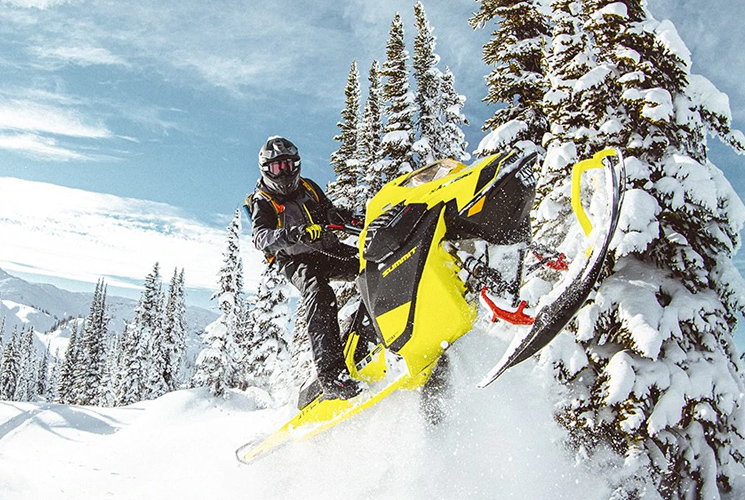 The snowmobile world is in a frenzy! Ski-Doo has just launched a brand new technology with the Summit 850 E-TEC Turbo. It is the revolutionary ROTAX engine. Why is it a game-changer? Because it is the first ever 2-stroke turbocharged 850 cc engine. This is unheard of in the industry!
This engine of the future delivers 165 horsepower, which is a 40-horsepower advantage over the naturally aspirated 850-class engines. This unparalleled power takes the snowmobile to new heights since even when the air gets thin at an elevation of 2,438 meters (8,000 feet) above sea level, the Summit 850 E-TEC Turbo operates at full speed.
Additionally, its sophisticated design integrates flawlessly and seamlessly with the REV Gen4 platform to ensure an ideal balance at minimal weight.
Designed for deep snow, the Summit 850 E-TEC Turbo features a lower seat height, shorter riser, tapered handlebar and low handlebar strap to ensure control regardless how much powdery white you're trekking through. Whether you're at the foot of the mountain or its peak, your riding experience will be the same.
With optimal maneuverability in mind, Ski-Doo equipped the Summit 850 E-TEC Turbo with skis and ski spindles with revised geometry, premium Kashima coated shock absorbers and a shorter tunnel for exceptional agility and snow evacuation.
It also employs the E-TEC SHOT starting system making it easier to start regardless of your position. After an initial pull-start, the engine charges a lightweight ultracapacitor. Subsequent starts are achieved by pushing the handlebar SHOT button which releases that energy and E-TEC does the rest. This system eliminates almost 9 kg (20 lbs) compared to conventional electric start.
If you would like more information on the new 2020 Ski-Doo Summit 850 E-TEC Turbo, do not hesitate to contact us! We would be happy to provide you with more information on this subject. To see it in person, stop by Maximum Powersports dealership in Hawkesbury.